Scarlett Moffatt urges fans to embrace 'wobbly bits' with honest bikini selfie
22 October 2018, 12:50 | Updated: 22 October 2018, 17:39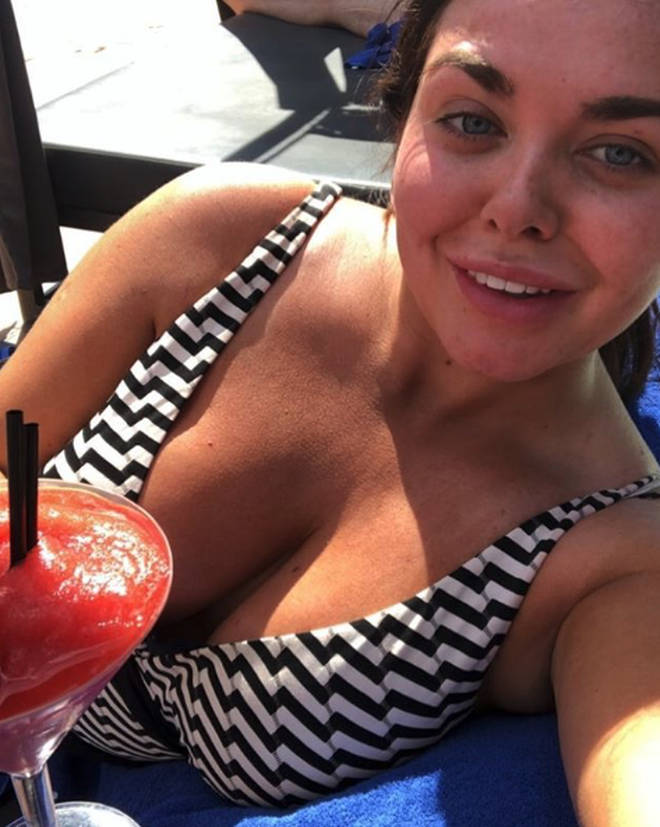 Scarlett Moffat has told her fans they should embrace their flaws in a new bikini selfie on Instagram.
Scarlett Moffatt took some time out her holiday to tell fans to love themselves.
The former Gogglebox star, 28, uploaded a new makeup free selfie on Sunday night wearing a revealing monochrome swimsuit as she sat poolside on a sun lounger.
Captioning the snap, Scarlett told fans they need to love their imperfections as she is learning to "live my best life, flaws and all" despite not having the body of her dreams.
The lengthy Instagram snap read: "Listen up ladies we all do this... pull ourselves to bits. Focus on our flaws, on how we aren't 'perfect'...
"I'm guilty [too], I stare at these amazingly stunning woman on Instagram and think oh no I have wobbly bits here there and everywhere compared to them.
"So I've uploaded this photo as when I first looked at it I instantly said oh Scarlett delete this photo your arm looks weird it's not toned at all & it's hanging over your swimsuit, my boobs have been defeated by gravity and aren't where society or the trolls persistently say they should be and my skin is far from perfect...
Read more: Scarlett Moffatt hits back at claims she's had plastic surgery
"But my fellow ladies what I am on this photo is happy and smiling and living my best life, flaws and all.
"Ladies please look at yourselves and love yourself, realise that no one is truly perfect and you don't need to look perfect in order to live your best life."
She finished: "As Dr Seuss said 'Today you are You, that is truer than true. There is no one alive who is Youer than You!' #bodyconfidence #love #selflove #nofilter #nomakeup #bestlife."
Read more: Scarlett Moffatt devastated after being trolled for wearing THIS outfit
Scarlett has struggled with her weight over the years and has openly spoke about her size, which has fluctuated between a size 8 and 18.
Her body has undergone huge transformations over the years, with her weight loss methods even causing controversy along the way.
She famously landed an excercise DVD after slimming down to a size 8 but it was reported her three stone weight loss was actually the result of a strict bootcamp regime and a 700 calorie-a-day diet.
Now Scarlett claims she is much happier being a healthy size 12.
She told The Sun: "I now I like going to the gym but I also like going for food.
"So for me, it's not necessarily that I'm the most happy with my body, I'm just happy with life. I've got the balance right."