Sam Faiers responds backlash after 'stealing' designs for her new baby clothing range
18 December 2018, 10:58 | Updated: 16 January 2019, 14:40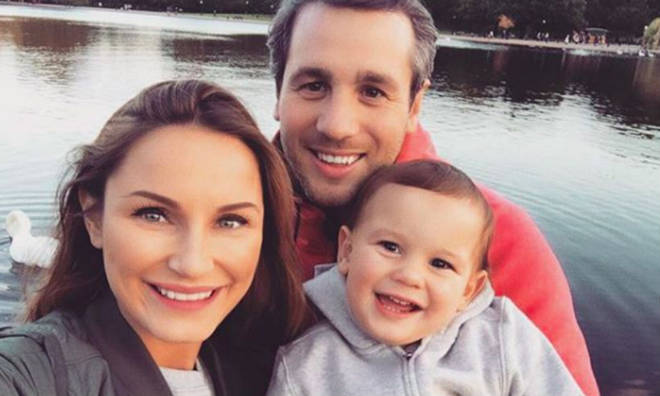 The Mummy Diaries star has been accused of 'ripping off' designs from a small independent baby clothing label, after asking them to send her free clothes for years.
Sam Faiers has been forced to deny claims she 'ripped off' designs from a small family company in a bid to launch her own children's clothing line.
The Mummy Diaries star, 27, is set to launch her new venture My Little Darlin next week, but has come under fire from Yorkshire-based clothing brand Forever Sewing, who allege she has 'stolen' their designs.
Sam has been working with Forever Sewing for months, requesting freebies from them and in turn promoting their clothes, that she dressed son Paul, 3, in, on Instagram.
She has now been accused of replicating the designs after she posted pictures of seemingly identical personalised tracksuits for toddlers.
Fans were quick to notice the similarities between Sam's designs (pictured above) and the original tracksuit by Forever Sewing (below)
The owner of Forever Sewing also took to Facebook to voice her anger, writing: "Absolutely devastated would be an understatement that after providing Samantha Faiers clothing for 2 years now she has decided to launch her own baby clothing range... which may I add would be absolutely fine BUT to RIP FOREVER SEWING off to the degree she has is absolutely disgusting!"
"Messages recorded over the last 2 years asking continuously for free clothing and sending lists upon lists all of which we have sent to her and all along she was taking them to cheap factories and matching them like for like. 
"Also keeping us sweet by talking collaborations with us to work together - because she knew our brand was strong!!!!
"For a 'business woman' who is in the public eye too! She doesn't have enough money in the bank... she has to potentially jeopardise our small family run company that we have worked all hours building!! 
"I have never been so stressed, anxious, angry and upset in all my life. Enjoy Maldives Samantha, I'm sure your family will be fine - let's hope your new venture doesn't affect ours!!!"
Many people on Twitter have now threatened to boycott her show The Mummy Diaries, which she stars in alongside sister Billie Faiers.
One wrote: "As if @SamanthaFaiers isn't making enough money but has RIPPED off a family business . Won't be watching her show anymore , Moneh Grabber!!|"
Another added: "Absolutely shocking move from @SamanthaFaiers !!! Should be ashamed of herself. Forever Sewing is a good, family run business who have built themselves up from the ground. Hope "her brand" is boycotted!"
And a third raged: "Why would she think this is ok @SamanthaFaiers so much goes into a family business and you accept their freebies then mimic and steal their business #boycott #disgraceful #workharder."
Sam has now responded to the claims on her Instagram stories, writing: "I always try and support small businesses where possible and tag brands who so kindly send things to myself and my family.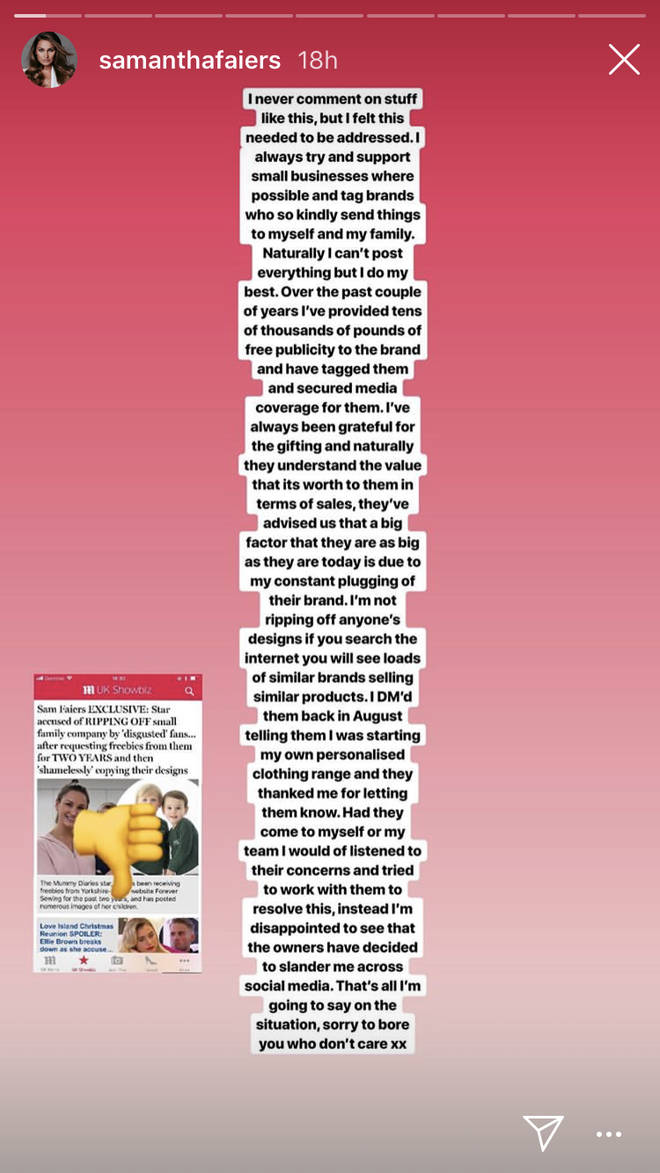 "Naturally I can't post everything but I do my best. Over the past couple of years I've provided tens of thousands of pounds of free publicity to the brand and have tagged them and secured media coverage for them.
"I've always been grateful for the gifting and naturally they understand the value that it's worth to them in terms of sales, they've advised us that a big factor that they are as big as they are today is due to my constant plugging of their brand. 
"I'm not ripping off anyone's designs, if you search the internet you will see loads of similar brands selling similar products. I DM'd them back in August telling them I was starting my own personalised clothing range and they thanked me for letting them know.
"Had they come to myself or my team I would of listened to their concerns and tried to work with them to resolve this, instead I'm disappointed to see that the owners have decided to slander me across social media.
"That's all I'm going to say on the situation, sorry to bore you who don't care xx".
NOW READ:
Alan Carr has reportedly been offered a spot for Strictly Come Dancing 2019
Bob from Nativity is all grown up and looks unrecognisable!
Strictly fan 'proves Stacey Dooley's win was FIXED' with convincing theory