GBBO fans call 'fix' for second week after spotting Rahul doing THIS
24 October 2018, 11:05 | Updated: 24 October 2018, 12:51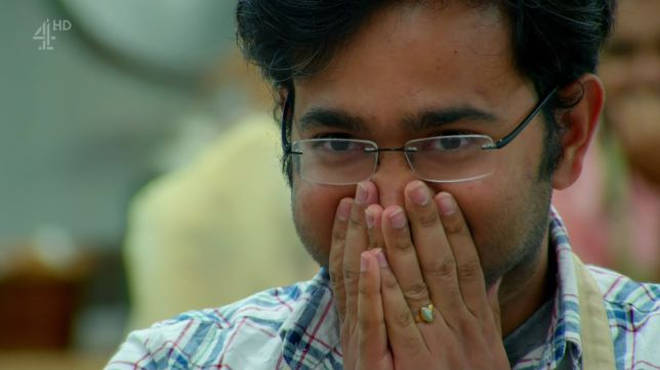 Rahul was spotted working on his baking AFTER Sandi and Noel called time on the challenge.
Great British Bake Off fans believe the show is a FIX after Rahul was allowed to continue decorating his cake when the bakers' time was up.
GBBO viewers were left fuming after Briony bade farewell to the tent ahead of next week's final - and they think Rahul should have gone.
Rahul scraped through for a second week running after displaying less-than-satisfactory baking - and fans weren't happy he was spotted adding the finishing touches to his efforts after Sandi Toksvig and Noel Fielding announced that the time was up.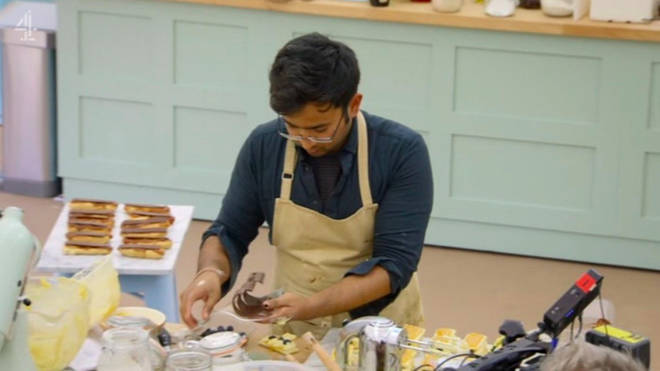 Rahul, who had a strong start to Great British Bake Off 2018, struggled the past two weeks - but has still managed to make it into next week's final, along with Ruby Bhogal and Kim-Joy.
It was Manon who was controversially asked to leave during Danish week last week, with Briony just missing out on the final three last night.
Read more: GBBO's Ruby Bhogal reveals winner to fake Sandi Toksvig account
And fans are arguing that it should have been Rahul on both accounts - especially after he was caught decorating his bakes after the allotted time frame.
Get Rahul out! He was still decorating his cake while bringing up to the table! #GBBO

— Lis (@Ladywolfe17) October 23, 2018
Excuse me, but did Rahul just keep working on his technical after they called time?? You can't add decorations on your way to the table, wtf. #GBBO

— Tal (@iseemagpies) October 24, 2018
Next week Rahul burns the tent down, stamps on Prue's glasses and set Paul's beard on fire.... But reaches the final👍 Serious loss of judging credibility there! #GBBO

— Gareth Bailey (@geembailey) October 16, 2018
With the final only seven days away, it has been reported that for the first time in the show's history, the finale will NOT take place in the infamous tent, but elsewhere.
Whilst fans gear up for what will surely be a nail-biting showdown, many are struggling to identify their favourite ahead of the 2018 final.
Great British Bake Off 2018 concludes next Tuesday at 8pm on Channel 4.