Which celebrities are on The Masked Singer? Full list of odds
5 February 2021, 12:14 | Updated: 12 February 2021, 15:13
The Masked Singer betting odds: the full list of celebrities who might be behind the masks...
The Masked Singer is in its final week, and trying to guess which celeb is hidden in each costume has taken up pretty much the whole of our 2021.
We have already seen the likes of Alien (Sophie Ellis-Bextor), Seahorse (Mel B), Swan (Martine McCutcheon), Grandfather Clock (Glenn Hoddle), and Bush Baby (John Thomson), Blob (Sir Lenny Henry), Viking (Morten Harket), Dragon (Sue Perkins, and Harlequin (Gabrielle) be unmasked.
Read more: The Masked Singer's Martine McCutcheon shares video of her son's reaction as she's revealed as Swan
If you're agonising over trying to work out which celebs remain in the competition, the full list of betting odds (from Betfair) have been revealed...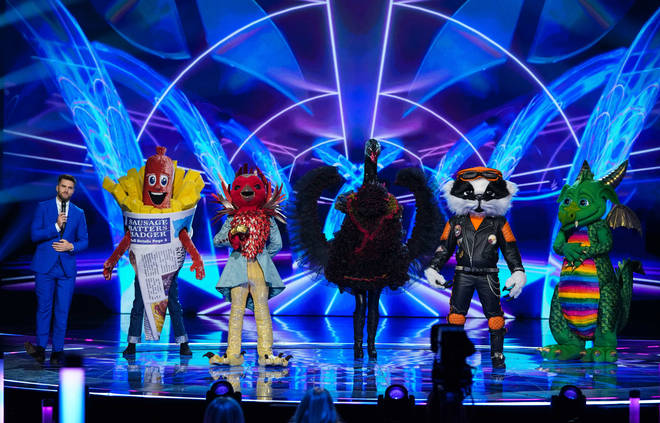 Badger
Ne-Yo: 11/10
Peter Andre: 2/1
Adam Lambert: 3/1
Jay Kay: 5/1
Pharrell Williams: 14/1
Kevin Clifton: 16/1
Carl Fogarty: 25/1
Robin
Aston Merrygold: 1/2
Olly Murs: 3/1
Nicky Byrne: 8/1
Perry Kiely: 10/1
Lee Ryan: 14/1
Gareth Gates: 16/1
James Blunt: 20/1
Sausage
Sheridan Smith: 8/11
Joss Stone: 4/1
Stacey Solomon: 7/1
Billie Piper: 16/1
Ellie Goulding: 25/1
Pixie Lott: 33/1
Leona Lewis: 40/1


Who is favourite to win The Masked Singer?
Robin is favourite to win The Masked Singer. The list of odds for all the contestants to win are as follows:
Robin: 6/4
Badger: 15/8
Sausage: 2/1
Betfair spokesperson Sam Rosbottom said: "The Masked Singer may have captivated people up and down the land in 2021, but the biggest riddle of all is still bamboozling amateur sofa sleuths - just who is Badger? While there are odds-on favourites in the forms of Aston Merrygold at 1/2 to be Robin and Sheridan Smith at 11/8 to be Sausage, the furry biker has everyone stumped.
"Ne-Yo is the current 11/10 favourite to be Badger, followed by Peter Andre at 2/1 and Adam Lambert at 3/1 - but having concealed themselves so well, the unmasking will come as a surprise to everybody come Saturday night. 
"The polished performances of Robin sees him as 6/4 favourite to win the show - but he is very closely followed by Badger at 15/8 and Sausage at 2/1 in what the odds suggest will be an incredibly tense final of everyone's favourite detective show."

NOW READ:
Who is on The Masked Singer UK? All the characters, clues and theories so far