What does 'Bev' mean? Love Island viewers baffled over Lucie Donlan's catchphrase
11 June 2019, 12:11 | Updated: 11 June 2019, 12:16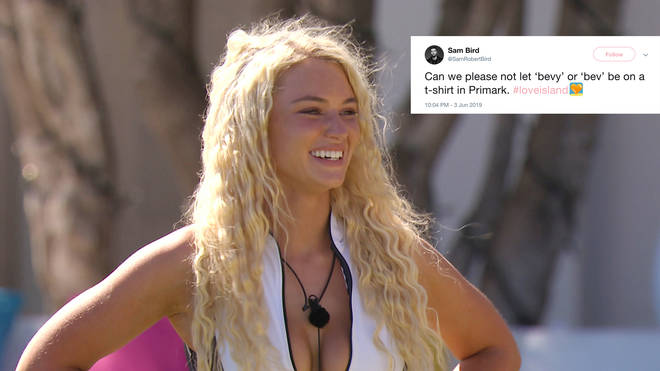 Love Island viewers were left confused after Lucie Donlan used the word 'bev' in her VT.
Love Island 2019 contestant Lucie Donlan baffled viewers by using the word 'bev' to describe a 'hot guy' in her VT during the first episode of Love Island earlier this week.
Read more: Who's coupled up with who on Love Island? The first season five pairs are here
She said: "In the villa, you're probably going to hear some new and weird words.
"A bev is a hot guy, if he's your boyfriend he's your bev, but if he's not your boyfriend he's a bev."
However, many viewers weren't taken by her new word...
Here's how Twitter reacted to Lucie's new catchphrase.
Think this Lucie girl is trying to make this "Bev/Bevvy" happen like Gretchen tried to make "Fetch" happen 🙄😴 #LoveIsland

— Sioned Mair (@YSioned89) June 3, 2019
Please lord do not make 'a bev' catch on as a term for a guy, it's a drink lmao #LoveIsland

— Nathan Henry (@NathanHGShore) June 3, 2019
Can we please not let 'bevy' or 'bev' be on a t-shirt in Primark. #loveisland

— Sam Bird (@SamRobertBird) June 3, 2019
But what does 'Bev' mean?
'Bev' denotes a 'hot guy', and 'bevnish' means to have sex, according to Lucy.
And she recently introduced a new take on the word after describing Michael as a 'little Bevil'.
She said: "I mean, why wouldn't you [like Michael], he's a right little bevil. Look at him though, he's cute."
Amber then added: "Look at him, he's canny."
However, viewers were quick to once again voice their annoyance at her catchphrase, with one tweeting: "Catching up on Love Island did Lucie really day 'bevil' oh i can't wait to vote her off."
Another ranted: "Dear Lucie, BEV/BEVIL is NOT going to catch on so please give up. Sincerely everyone ever."
Despite her questionable catchphrases, Lucie is proving very popular in the house. After coupling up with Joe, Tommy Fury dramatically chose her during the recoupling.
Lucie is now embroiled in a love triangle with Joe and Tommy, but the teaser for the next episode showed new girl Molly-Mae choosing Tommy for a cosy hot tub hideaway date, much to the apparent dismay of Lucie...