Married At First Sight's Thomas and Rozz break silence after shock split
7 November 2023, 16:03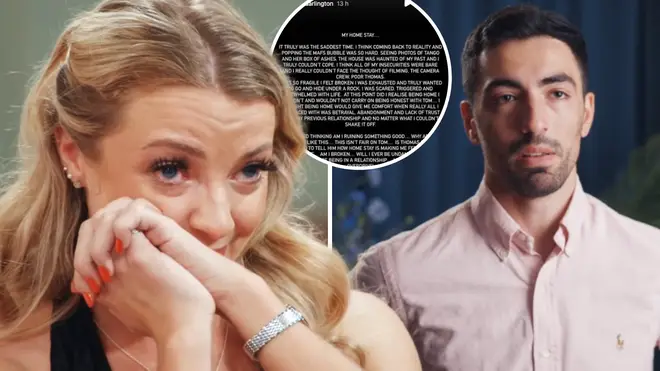 Married At First Sight's Rosaline Darlington and Thomas Kriaras appear to have confirmed their split.
Married At First Sight couple Thomas Kriaras and Rosaline Darlington had become one of the strongest couples in the experiment this year before their homestay saw a shock revelation from the bride.
During Monday night's episode, while visiting her home with Thomas, Rozz told her husband that she leaving the bubble of the experiment has made her realise she may not be ready for a relationship.
Now, both Thomas and Rosaline have taken to their social media to reflect on the episode and their relationship before appearing to confirm their split.
Sharing a long message on her Instagram story, Rozz explained that the homestay was the "saddest time" for her as she felt "broken and exhausted".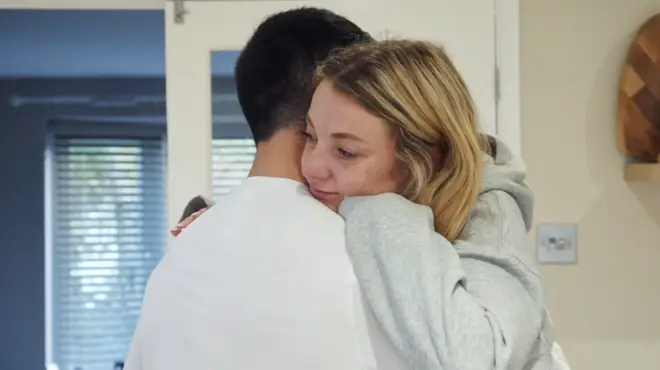 While she believed she was ready for a new relationship following the shocking split from her long-term partner, she reflected that she still had "abandonment issues" and a "lack of trust" which she felt she couldn't shake.
Rozz wrote to her fans that during the homestay she laid in bed at night asking if she would ever be "undamaged goods".
She wrote: "I cried all my homestay. I had the uncontrollable shakes. I couldn't sleep. I cried for Tom. I cried for me. I cried for the experiment. I cried because I felt guilty for taking someones space on the show."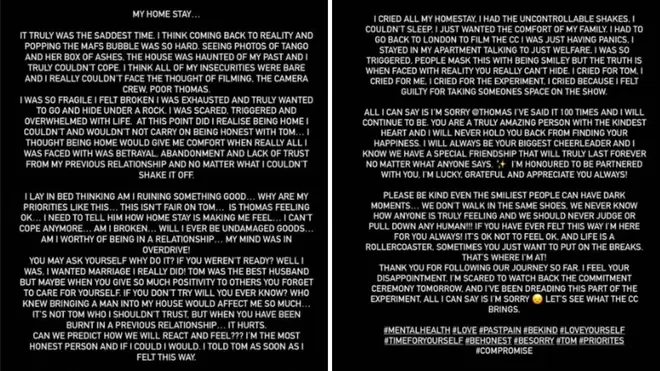 Rosaline went on: "You may ask why do it? If you weren't ready? Well I was. I wanted marriage I really did! Tom was the best husband but maybe when you give so much positivity to others you forget to care for yourself. If you don't try will you ever know?"
She then apologised to Thomas and described him as a "truly amazing person with the kindest heart" before adding: "I will never hold you back from finding your happiness."
Thomas also took to social media on Monday evening to reflect on his relationship with Rozz and the episode.
He shared the following message on Instagram to his fans: "Tonight was hard so love for @rozzdarlington and myself ✨ Tonight was really hard. I could only watch snippets on my phone from the garage whilst working out haha.
"During my time with @rozzdarlington, I struggled massively to open myself up. It's something I've always struggled to do. My mum says hugging my is like hugging an ironing board sometimes hahaha.
"But with @rozzdarlington, she made me feel safe to do so. She taught me to be open and honest, something I've really struggled to do, especially in relationships. She gave me my confidence back. Something I will forever be thankful for. She showed me I could really give my heart to someone completely and fully. I am sure I did that with her.
"I'm sad but @rozzdarlington you've given me so much and you've nothing to be sorry for. In relationships, I've always felt like there was hot lead in my chest, but whenever I think of you, my heart feels like shining gold. I've never felt like that before.
"I always say I'm the third luckiest man because I got matched with you on MAFS. The second was your ex who was an idiot not to cherish you forever. The luckiest man is the man who you will eventually give your heart to and I hope they give you the world and more.
"Again, thank you @rozzdarlington for giving me my confidence back. For unlocking my soul again. Thank you for always being there for me when I really need it. Thank you for making me a better person. And thank you for showing me that I can give my heart completely to someone ✨"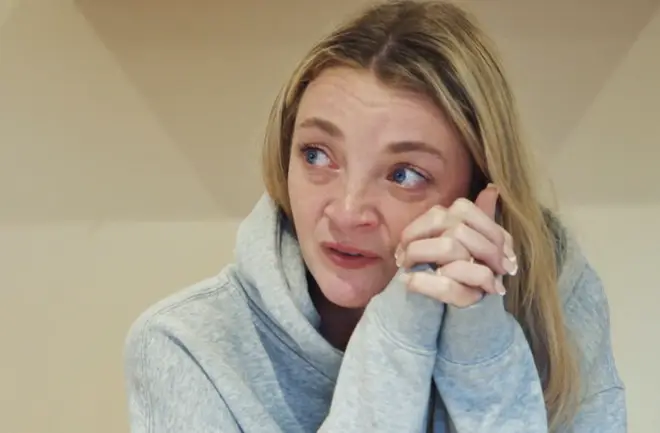 The pair will decide whether to leave or stay in the experiment during Tuesday night's episode where they face a commitment ceremony together with the experts.
From these messages, however, many fans believe their split has already been confirmed and that the pair may be ready to say 'leave' during tonight's episode.
Read more: