Married At First Sight's Shona says Brad's behaviour was worse off-camera
10 October 2023, 15:56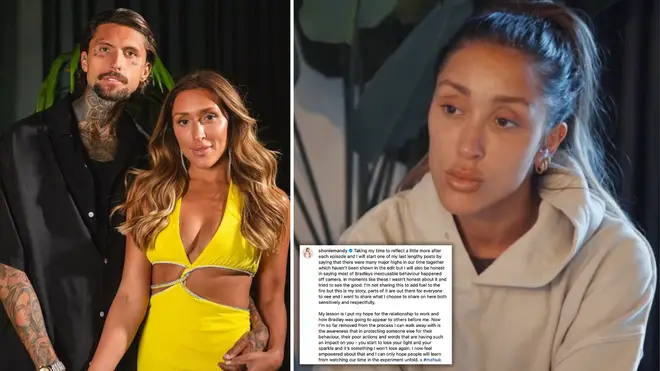 Shona Manderson has spoken out about her relationship with Brad Skelly and his 'inexcusable behaviour' on Married At First Sight.
Married At First Sight bride Shona Manderson, 31, has said that 27-year-old Brad Skelly's behaviour was worse off-camera.
Shona, who was smitten with her new husband at the beginning of the series, has been reflecting on recent episodes which have seen her fellow brides and even the Married At First Sight experts call out Brad's behaviour.
This comes days after it was confirmed that Brad is kicked off the show after displaying "controlling and manipulative" behaviour towards wife Shona.
Now, Shona has claimed that most of his "inexcusable behaviour" happened off-camera.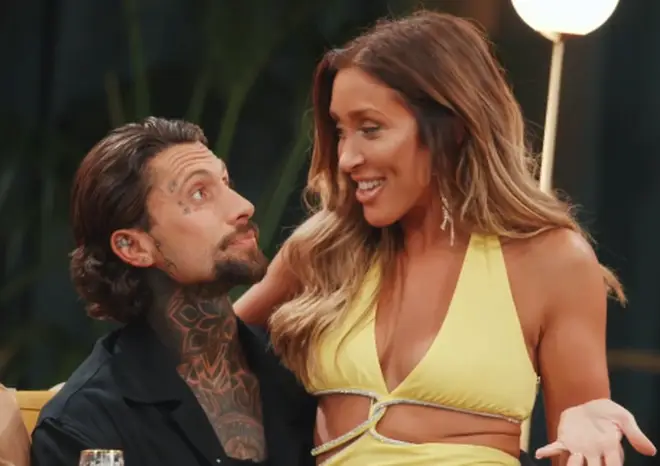 Taking to her Instagram page, Shona posted a picture of herself from the show which she captioned with a message which reads: "Taking my time to reflect a little more after each episode and I will start one of my last lengthy posts by saying that there were many major highs in our time together which haven't been shown in the edit but I will also be honest in saying most of Bradleys inexcusable behaviour happened off camera.
"In moments like these I wasn't honest about it and tried to see the good. I'm not sharing this to add fuel to the fire but this is my story, parts of it are out there for everyone to see and I want to share what I choose to share on here both sensitively and respectfully."
She went on: "My lesson is I put my hope for the relationship to work and how Bradley was going to appear to others before me. Now I'm so far removed from the process I can walk away with is the awareness that in protecting someone else for their behaviour, their poor actions and words that are having such an impact on you - you start to lose your light and your sparkle and it's something I won't lose again. I now feel empowered about that and I can only hope people will learn from watching our time in the experiment unfold."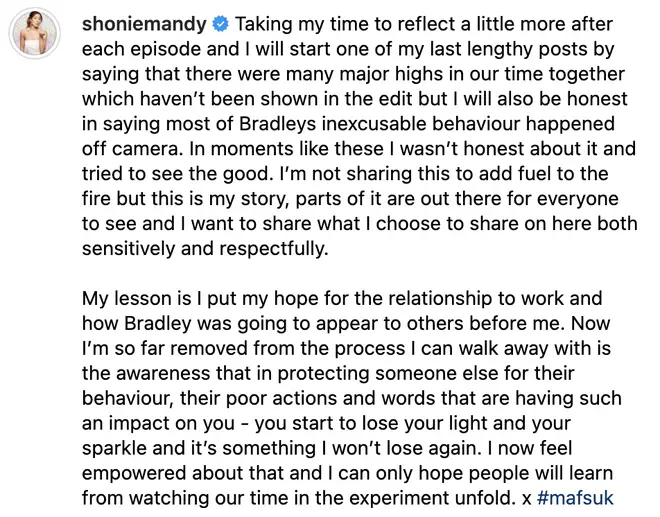 As it was confirmed Brad and Shona leave the show, a spokesperson for Channel 4 told Mail Online: "The couple's exit plays out in the show. It was agreed alongside experts Paul, Mel and Charlene that the intensive Married at First Sight environment was not working for the couple and it was the right time to leave the experiment.
"The relationships on Married at First Sight UK are closely monitored off screen, by production and an independent psychologist. If any of the relationships develop in a way that is deemed to be potentially unhealthy for either party, we would take expert psychological advice as to whether it was time for them to leave the process.
"The welfare of all contributors on Married at First Sight UK is our top priority and we ensure that appropriate support is available to contributors at all times during filming, including 24/7 access to a member of the welfare team or psych support."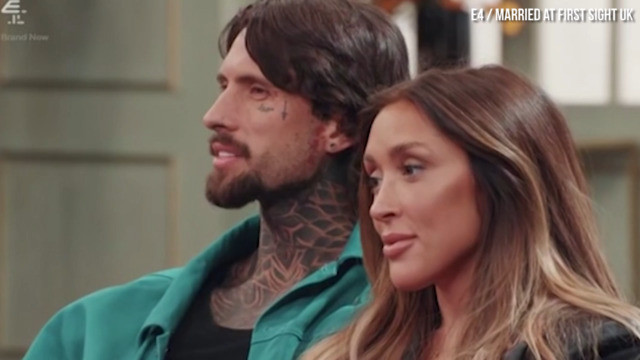 Brad wants to 'teach' Shona on MAFS UK
Earlier this week, it was reported that Brad has moved on from Shona after he was allegedly seen kissing his new girlfriend Hollie Baldwin at an event.
Hollie later appeared to confirm their romance when she posted a picture with Brad on her Instagram story with a padlock emoji over it.
Read more: