Who is Blob on The Masked Singer? Celebrity identity clues and theories revealed
30 January 2021, 15:56 | Updated: 5 February 2021, 13:41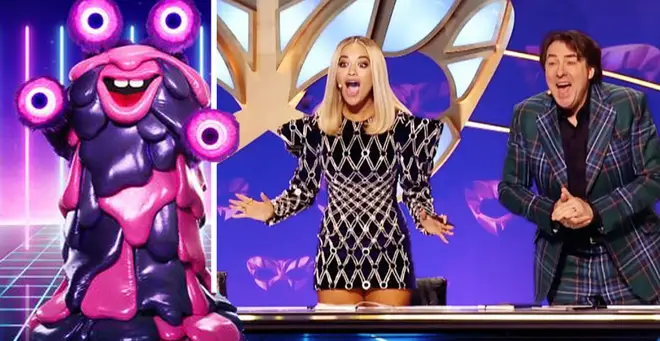 Who is Blob? The Masked Singer UK is back - here's everything we know about the character.
Everyone's favourite TV talent show is finally back on our screens, with a brand-new set of mystery celebs donning their wacky costumes and performing for a live studio audience.
Read more: The Masked Singer UK characters unveiled - with hints about who they are
The Masked Singer, which originated in South Korea, sees a number of famous faces perform behind masks - with the panel, Davina McCall, Jonathan Ross, Rita Ora and Mo Gilligan - tasked with guessing who they are.
One of the characters competing this year is Blob - here's everything we know about who could be behind the mask...
**Update: Blob has now been unmasked! Scroll down to find out who it was...**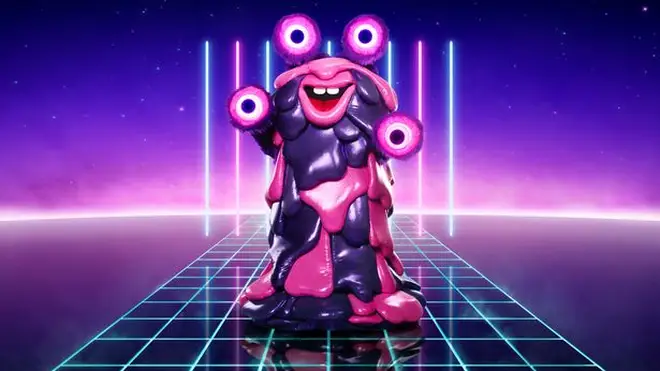 Who is Blob?
Performance one clues:
Blob appears to be a man, and said in their first VT: "I'm big, bright and loud. Oh, and it's not the first time I've been called four eyes. having these extra eyes helps me to observe everything, and I've definitely done a lot of that in my career
"As a kid I wanted to be James bond or batman, but instead I became the Blob.
"Tonight I've got all four eyes on the prize, and I'm, hoping to go out there and make a good first impression."
Many people on Twitter guessed that Blob could be Lenny Henry, with one writing: "Lenny Henry is my guess that voice sounds so familiar".
Blob's final clue was: "I have recorded a demo for Simon Cowell".
Performance two clues:
Before Blob's second performance, he said: "In my last performance, the panel were getting some serious teacher vibes
I'm a bit of an academic, so maybe i can teach them a lesson in guessing.
"Have they got the shape of me? Absolutely not.
"As a musician, I've had the great fortune to duet with amazing artists over the years.
"I played to large audiences and also intimate celebrity gigs - I even played for a top political journalist.
"My career has seen me record with the best, like when i worked with George Michael's producer.
"Even though I've got no hands, I've written songs too. Tonight I hope to write Blob a winning anthem."

Lenny Henry is my guess that voice sounds so familiar 🤩

— Lisa Young (@lisa_young21) January 2, 2021
Too easy! Lenny Henry all day long!!!!

— Simon Jelly Man Gunn (@jellyfitness) January 2, 2021
Performance three clues:
Before his third performance, Blob said: "A wise person once told me - if you don't stand for something, you'll fall for anything.
"Which led me to always stand up for the things I believe in.
"Laughter can do truly wonderful things. Like love, it can build bridges and break barriers, which is something i learnt as a young Blob.
"But, sometimes, making yourself the punchline can win over the toughest of crowds.
"Ultimately, all i want to do is put a smile on people's faces."
Performance four clues:
Before his fourth performance, Blob said: "I'll let you in on a secret, I love to cook as much as I love to sing.
"People love a bad boy, I've always been more interested in doing good. It's important to use your platform to elevate others, and my career has seen me do that on some incredible stages.
"Many stages and many roles, some I could never have dreamed of.
"And now I've taken on my greatest role to date - Blob."
In Blob's 'backstage footage', he was seen handing over a big cheque.
First time watching #TheMaskedSingerUK blob is Lenny Henry ,the song gave it away as he advertises premier inn hotel chain

— hayley donnelly (@hayli_d_1986) January 23, 2021
Who was Blob?
In last week's episode, Blob was finally unmasked - and it was Sir Lenny Henry! Find out how it went down here.
Read more: Which celebrities are on The Masked Singer? Full list of odds
Who are the other Masked Singer contestants?
See below for the full list of remaining Masked Singer contestants.
Read more: Who is favourite to win The Masked Singer?
Who won the first series of The Masked Singer?
Nicola Roberts, who was dressed as Queen Bee, was crowned the first winner of the UK series.
When is The Masked Singer on ITV?
The Masked Singer is on Saturdays at 7pm.
Who is presenting The Masked Singer?
Joel Dommett, who presented the first series of The Masked Singer back in January, has returned to host this time round.
Who is on The Masked Singer panel?
Rita Ora, Davina McCall and Jonathan Ross are all reprise their roles, and Mo Gilligan stepped in to replace Ken Jeong.
Speaking about the new series, Mo said: "The show that everybody loved in series one is going to be the show that everyone will love in series two but it's just been amplified. It's the best way I could describe it. I think that's the beauty of it."
NOW READ:
Mark Wright 'exposes' Olly Murs as The Masked Singer's Robin: 'I think we've got him!'