Who is Sausage on The Masked Singer? Celebrity identity clues and theories revealed
6 February 2021, 19:33 | Updated: 12 February 2021, 16:46
Who is Sausage on The Masked Singer? Find out all the clues and theories on which celebrity is behind the mask...
The Masked Singer - probably the most bonkers show to have ever been on TV - is now in its final week
Read more: The Masked Singer UK characters unveiled - with hints about who they are
The ITV series, which originated in South Korea, sees a bunch of mystery famous people dress up in elaborate costumes and perform a song for a live audience.
The panel - Davina McCall, Jonathan Ross, Rita Ora and Mo Gilligan - are then tasked with guessing who's behind the mask.
One of the mystery celebs left in the competition is Sausage. Here's what we know about who could be behind the mask...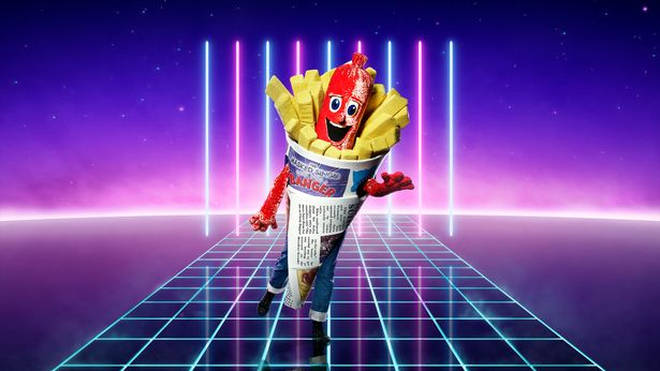 Who is Sausage on The Masked Singer?
First performance clues:
Sausage appears to be a woman, and said in her first VT in week one: "Hello, it's me, Sausage.
"The thing about Sausages is that they're a combination of a little bit of everything, and I guess you could say the same about me.
"With my chips and my newspaper wrapping, I might look a bit of a tomboy, but i really am a girly girl.
"I love a bit of glam, but that doesn't mean I can't have fun, and to be honest I'm a bit of a silly sausage, and to be honest I just want to have a laugh.
"And tonight I'm singing a real banger."
At the end of her performance, she said: "My performances are something of a balancing act".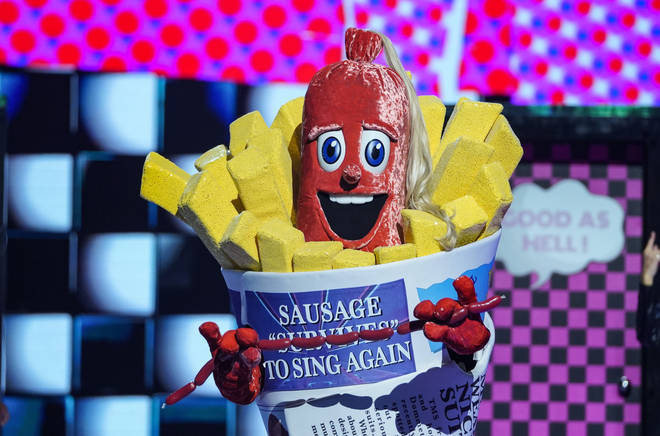 Second performance clues:
In her second VT in week two, Sausage said: "Let me catch up on my last performance.
"Wow what a great response, I'm overwhelmed cos honestly I'm just a regular old sausage
"The panel tried really hard to get the scoop on who i am, this sausage has certainly put the panel in a pickle and im relishing every moment
""he thing with sausages is that they can me gourmet or they can be no nonsense, and I'm definitely a bit of the latter.
"I don't mind speaking my own mind and following my own path, but ultimately i love a bit of the simple life.
"I don't need a glam party, I'm very happy with a couple of beers and a bag of potato snacks.
"I'm equally at ease with a night in at home, you'll most likely find me with a hammer and set of nails, because I love a bit of DIY."
After her second performance, many people on Twitter have guessed that Sausage is Sheridan Smith - due to the Two Pints of Lager and a Packet of Crisps reference.
Further evidence pointing to Sheridan Smith was found in her 'two truths and a lie' segment.
Sausage said the following:
"My hair colour is officially certified by law.
"Someone once said I look like a popstar, I sound like a popstar and I am a popstar.
"I owe my career to a horse"
Jonathan Ross then pointed out Sheridan starred on the West End in Legally Blonde, which would fall in line with the first clue...
Third performance clues:
In her third VT, she said: "The joy of this mask is that you're totally trying to guess what I look like.
"I'll be honest with you - someone once said I look like a horse.
"I do enjoy hiding my face behind this mask, although its not the first time i've made sure you can't see my face in my work
"Tonight the chips are down, and I'm just hoping I can cut the mustard."
Fifth performance clues:
Before her fifth performance, Sausage said: "Sausages aren't often the subject of fairytales, but maybe that's about to change.
"Because this little Sausage has some tales to tell.
"I was once on the menu for a princess.
"I'm a true romantic, and I guess one of my favourite tales was getting to see some very important people say for better or verse."
What are Sausage's odds and theories?
Most people seem to think that Sausage is Sheridan Smith, but Stacey Solomon is also a front-runner - thanks to a new clue spotted by someone on TikTok.
I don't watch the masked singer but I'm telling you, that sausage is Sheridan Smith, you heard it here first 🤣

— Mark Parker (@ParkMarker14) January 9, 2021
I thought Stacey Solomon, with the pickle reference.. but I think it's Sheridan Smith with the Two pints reference

— __abigailrhodescoles (@__abbierhodes) January 9, 2021
The odds for Sausage (from Betfair) are as follows:
Sheridan Smith: 8/11
Joss Stone: 4/1
Stacey Solomon: 7/1
Billie Piper: 16/1
Ellie Goulding: 25/1
Pixie Lott: 33/1
Leona Lewis: 40/1
Read more: Which celebrities are on The Masked Singer? Full list of odds
Who are the other Masked Singer contestants?
See below for the full list of remaining Masked Singer contestants.
Who has been revealed so far on The Masked Singer?
Find out who has been unmasked here.
Who is presenting The Masked Singer?
Joel Dommett, who presented the first series of The Masked Singer back in January, has returned to host this time round.
He has claimed that the clues for each contestant is harder this series, saying: "The clue packages are much harder this time round, they can really throw you off the scent.
"I think last year they went a little easier as people were getting a sense of the show. I will say it's much harder when you're in the studio than when you're sat at home and you've got Google. This year there's certainly a couple of people that had everyone thrown off right until the end."
Who won the first series of The Masked Singer?
Nicola Roberts, dressed as Queen Bee, was crowned the first winner of the UK series.
Who is on The Masked Singer panel?
Rita Ora, Davina McCall and Jonathan Ross will all reprise their roles, with Mo Gilligan stepping in to replace Ken Jeong.
Speaking about his new role, comedian Mo said in a statement: "It's a real privilege to be joining The Masked Singer team. It's one of the funniest shows out there and I'm really proud to play my small part to help bring a little bit of joy to the nation. I can't wait to join Jonathan, Rita, Davina, Joel and hopefully Ken! Now… let's get cracking."
NOW READ:
Who is favourite to win The Masked Singer?