Who is Harlequin on The Masked Singer? Celebrity identity clues and theories revealed
6 February 2021, 19:18 | Updated: 12 February 2021, 15:59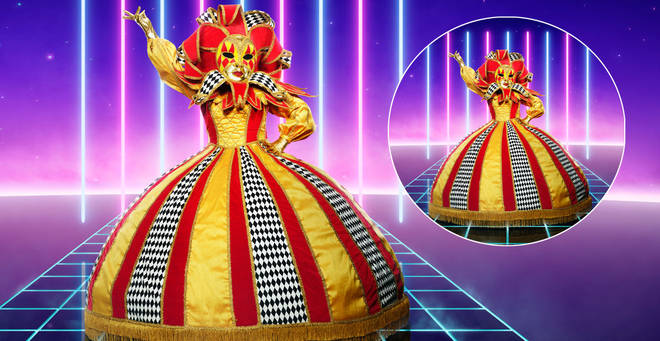 Who is Harlequin? All the theories and clues about The Masked Singer contestant.
The Masked Singer UK is officially back for its second season, and the new series if the hit ITV show isn't disappointing.
The ITV show - hosted by Joel Dommett - sees a bunch of famous faces perform to a live studio audience and judging panel each week.
The catch, though, is that they're dressed in an elaborate costume, and we don't find out their identity until they're eliminated.
One of the characters taking part is Harlequin - here's what we know.
Read more: Mark Wright 'exposes' Olly Murs as The Masked Singer's Robin: 'I think we've got him!'
**Update: Harlequin has now been unmasked! Find out who it was here**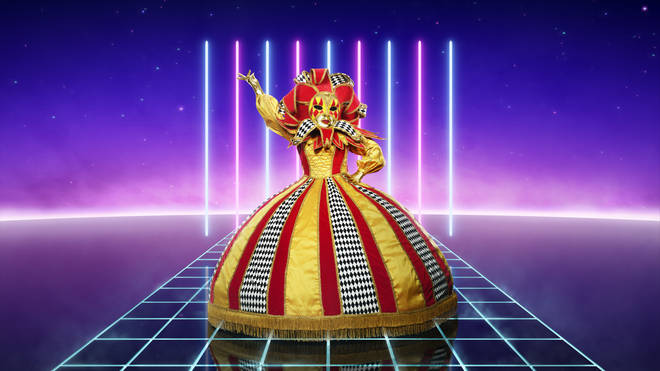 Who is Harlequin?
First performance clues:
In their first VT, Harlequin said: "roll up, roll up here I am, the Harlequin.
"A harlequin is a bit of a clown, and although I'm no fool, you can definitely say that i'm a bit of a jack.
"Would I say taking part in the masked signer was a laugh? Absolutely not. The thought of walking on stage is quite terrifying, you might have to push me on there.
"It's like doing karaoke, and that is a whole new experience for me.
Harlequin added: "Bring on all the fun of the fair."
Harlequin's final clue was: "I once played a male lead in a musical"
Second performance clues:
Before Harlequin's second performance, she said that she 'loves to read' and that 'all round the world' her stories are heard.
Her two lies and a truth were as follows:
- My bodyguard receive a lot of attention.
- I get up before the sun for work.
- I once turned down a prince.

Third performance clues:
Before Harlequin's third performance, she said: "Despite my colourful appearance, the panel can't help but see grey.
"In my last performance, it felt like I really cleaned up with some comments from the panel.
"But it's not the first time I've cleaned up.
"A tidy home makes me very happy indeed - happy home happy mind.
"I love to be at home, you're more likely to catch me there than our partying.
"Don't get me wrong, I love a festival - you could say they're lit.
"Tonight, get ready to see a Harlequin's true colours."
Fourth performance clues:
Before her fourth performance, Harlequin said: "They say it's a man's world. I don't know about that.
"I did begin my career in a man's suit, which is maybe not that surprising. After all, I've stood shoulder to shoulder with dignitaries.
"I've chatted to world leaders, but none of them were a patch on the prince I once met.
"It knocks me off my feet to think of all the places I've been."
In Harlequin's 'backstage footage', she was shown trying to pick up a fan from the ground.
Fifth performance clues:
Before her fifth performance, Harlequin said: "I think it's important to make a good impression. Rumour has it, someone who I admire very much used to do impressions of me.
"They do say imitation is the most serious form of flattery, and it makes me proud to inspire others.
"It's the accomplishments of others that make me most proud.
"I'm certainly not work shy, though I admit I only like to work three months a year."
What are Harlequin's theories and odds?
Viewers on Twitter are convinced Harlequin is Gabrielle, which many have been claiming since her very first performance.
Gabrielle is also the odds on favourite to be Harlequin.
So Dreams by Gabrielle originally featured a sample of Fast Car by Tracy Chapman (the song Harlequin just sang). Case closed. #MaskedSingerUK

— Sarah Doran (@sarahisnothere) January 23, 2021
Her odds (from Betfair) are as follows:
Gabrielle: 1/2
Desiree: 5/2
Macy Gray: 7/1
Beverley Knight: 12/1
Emeli Sande:  25/1
Read more: Which celebrities are on The Masked Singer? Full list of odds
Who are the other Masked Singer contestants?
See below for the full list of remaining Masked Singer contestants.
Which Celebrities took part in the first series?
The following celebrities took part in the first series of The Masked Singer.
- Nicola Roberts WINNER (Queen Bee)
- Patsy Palmer (Butterfly)
- Alan Johnson (Pharaoh)
- Justin Hawkins (Chameleon)
- Jason Manford (Hedgehog)
- Teddy Sheringham (Tree)
- Kelis (Daisy)
- Skin (Duck)
- Jake Shears (Unicorn)
- Denise Van Outen (Fox)
- CeeLo Green (Monster)
- Katherine Jenkins (Octopus)
Read more: Who is favourite to win The Masked Singer?
Who is on The Masked Singer panel?
Jonathan Ross, Rita Ora and Davina McCall are back for season two, with Mo Gilligan stepping in to replace Ken Jeong.
Speaking about the show, Jonathan said: "I'm very glad I said yes to being involved in the series. Now that we've had one series that was a hit everyone can now see the appeal."
NOW READ:
The Masked Singer UK characters unveiled - with hints about who they are