Married At First Sight's Arthur heavily hints he and Laura are still together
4 October 2023, 13:45 | Updated: 4 October 2023, 13:56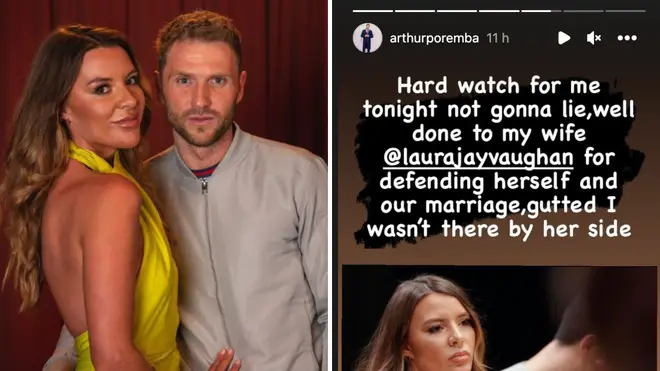 Married At First Sight's Arthur Poremba is still calling Laura Vaughan his 'wife' after recording the hit reality TV show.
Married at First Sight's Arthur Poremba has hinted he is still with Laura Vaughan after referring to her as his 'wife'.
The couple, both 34-years-old, got off to a rocky start of their wedding day, but since their honeymoon have turned over a new leaf.
During the latest dinner party, Hampshire-based finance manager Laura arrived alone after it was revealed that Arthur had fallen ill, being forced to face the backlash against her alone.
It was fellow bride Porscha who told Laura that groom Luke had called her a 'gold-digger' during a private drinks party which she and Arthur did not attend.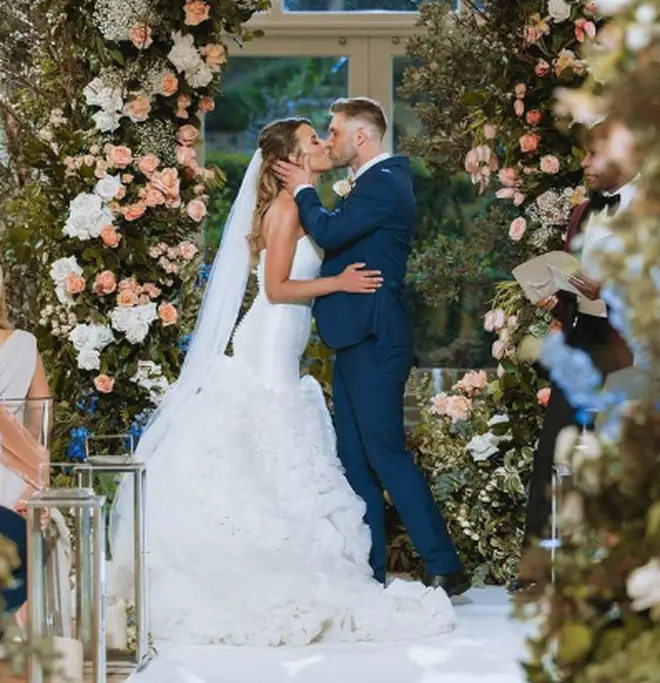 After the episode saw Laura talk to Luke in order to defend herself, Arthur took to Instagram where he praised his wife for how she handled the situation.
The London-based tennis coach wrote: "Hard watch for me tonight not gonna lie, well done to my wife Laura for defending herself and our marriage, gutted I wasn't there by her side."
Arthur went on to add: "Laura has NEVER mentioned anything about MONEY or that she's looking for someone to support her financially so let's just get this out of the way please."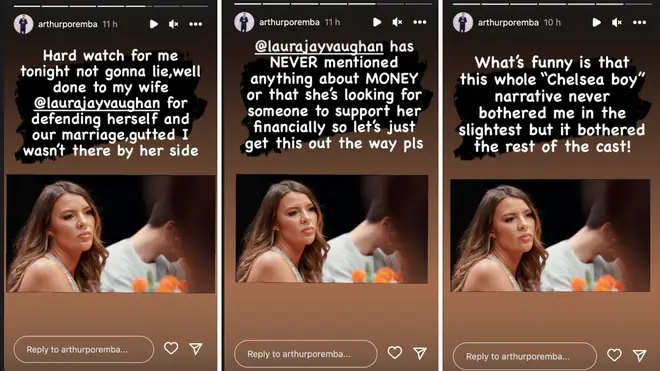 He finished by writing: "What's funny is that this whole 'Chelsea Boy' narrative never bothered me in the slightest but it bothered the rest of the cast!"
Arthur has been praised by viewers for showing support to Laura, with some noticing that even today he calls her his 'wife' - could this mean the pair are still together?
Of course, we won't know for sure until the end of the series where we'll find out if Laura and Arthur decide to commit to one another.
Laura also reflected on the events of the dinner party on social media, sharing her own message on Instagram which read: "Ok, that was TOUGH. You'll all now have seen why @arthurporemba and I had been quiet on the last couple episodes. He'd been poorly and unable to film 🥲
"So, into the lions den I go, alone. I remember walking into this dinner party instantly looking for my support network, which at that time was Shona, Nathanial and Porscha. When I got told about the 'gold digger' comment, it struck a nerve with me because honestly, I've always been so generous with money.
"I've always paid my way and usually the way of others and happily so. I felt attacked and so I went on the attack a little too but I did the classy thing and pulled Luke to the side, away from everyone else so that I could understand why he said it. Once he did, I corrected some misconceptions. Im proud of myself for being strong and standing up for what I think is right, even when I felt quite alone. It's all love now 🫶🏻 and all part of the journey."
Arthur was quick to comment on this post, only fuelling speculation the couple are still dating.
He wrote: "You did an incredible job at that dinner party and I couldn't be more proud of you 👏🏻 gutted I wasn't there supporting you 🫶🏻x."
Read more: