John Lewis finally reveals Christmas advert for 2023 starring loveable venus flytrap
9 November 2023, 07:56 | Updated: 9 November 2023, 08:04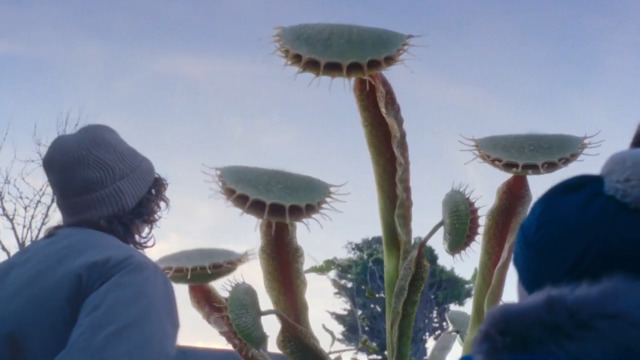 'Snapper' stars in the John Lewis 2023 Christmas Advert
John Lewis has unveiled their Christmas advert for 2023 which stars a loveable venus flytrap and an original song by Andrea Bocelli called Festa.
John Lewis has finally revealed their highly-anticipated Christmas advert of 2023.
The advert tells the story of a young boy who picks up a 'Grow Your Own Christmas Tree' box while shopping with his mother, sister and grandmother.
As soon as he gets home, he plants the seed in a pot and excitedly waits for it to grow. Quickly, the 'Christmas tree' he thought he was growing reveals itself to be a venus flytrap instead.
The boy is ecstatic and quickly forms a close bond with the mischievous plant, who continues to bring mayhem to the house.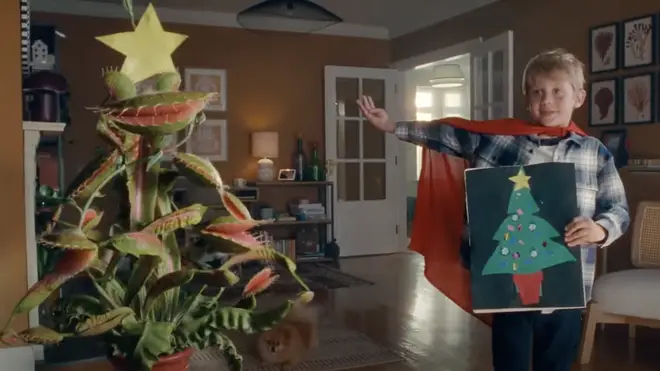 The mother, sister and grandmother eventually decide to move the venus fly trap outside and replace it with a traditional Christmas tree, leaving the little boy sad.
As Christmas day arrives, the little boy can be seen coming downstairs in his coat, hat and shoes as he picks up a present and brings it out to the plant in the garden.
The mum, sister and grandmother do the same before the lovable plant starts to eat the presents – however, it is then revealed that it was simply unwrapping the gifts for them, expelling each gift to the members of the family.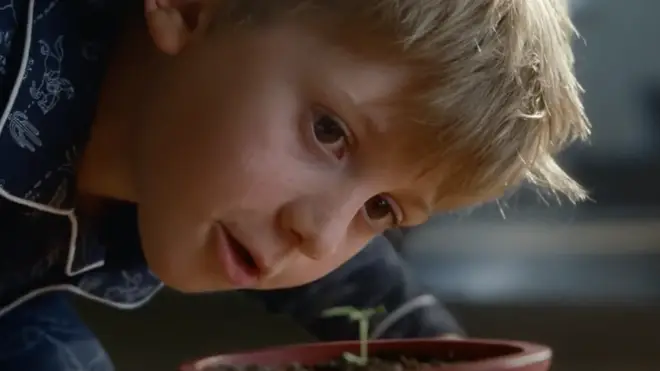 The song, Festa, which plays over the advert is an original song sang by Andrea Bocelli and was created by Le Feste Antonacci specifically for the John Lewis advert.
It has been revealed that John Lewis purposefully went down a very different route to their previous tradition of 'acoustic over versions' with this song.
Festa is a charity single and all profits will go to the John Lewis Partnership's Building Happier Futures appeal.
Full list of John Lewis Christmas adverts
John Lewis Christmas Advert 2007
Title: Shadows
Song: Aubade from the Romeo and Juliet suite by Prokofiev
John Lewis Christmas Advert 2008
Title: From Me To You
Song: From Me To You by The Beatles
John Lewis Christmas Advert 2009
Title: Sweet Child of Mine
Song: Sweet Child O' Mine by Guns N' Roses, performed by Taken by Trees
John Lewis Christmas Advert 2010
Title: A Tribute to Givers
Song: Your Song by Elton John, performed by Ellie Goulding
John Lewis Christmas Advert 2011
Title: The Long Wait
Song: Please, Please, Please, Let Me Get What I Want by The Smiths, performed by Slow Moving Millie
John Lewis Christmas Advert 2012
Title: The Journey
Song: The Power of Love by Frankie Goes To Hollywood, performed by Gabrielle Aplin
John Lewis Christmas Advert 2013
Title: The Bear and the Hare
Song: Somewhere Only We Know by Keane, performed by Lily Allen
John Lewis Christmas Advert 2014
Title: Monty the Penguin
Song: Real Love by John Lennon, performed by Tom Odell
John Lewis Christmas Advert 2015
Title: Man On The Moon
Song: Half The World Away by Oasis, performed by AURORA
John Lewis Christmas Advert 2016
Title: Buster The Boxer
Song: One Day I'll Fly Away by Randy Crawford, performed by Vaults
John Lewis Christmas Advert 2017
Title: Moz The Monster
Song: Golden Slumbers by The Beatles, performed by Elbow
John Lewis Christmas Advert 2018
Title: The Boy and the Piano
Song: Your Song by Elton John
John Lewis Christmas Advert 2019
Title: Excitable Edgar
Song: Can't Fight This Feeling by REO Speedwagon, performed by Bastille
John Lewis Christmas Advert 2020
Title: Give a Little Love
Song: A Little Love by Celeste
John Lewis Christmas Advert 2021
Title: Unexpected Guest
Song: Together in Electric Dream by Philip Oakey & Giorgio Moroder, performed by Lola Young
John Lewis Christmas Advert 2022
Title: The Beginner
Song: All The Small Things by Blink-182, performed by Mike Geier
Read more: