Married At First Sight's Laura Vaughan breaks silence after grooms 'attack' relationship with Arthur Poremba
26 October 2023, 14:10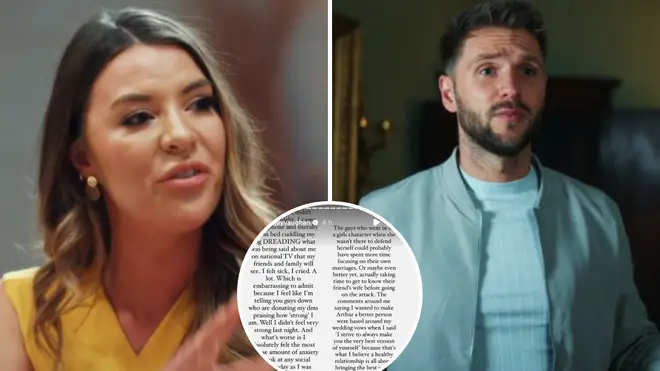 Married At First Sight's Laura Vaughan has defended herself online.
Married At First Sight star Laura Vaughan, 34, has hit back at the grooms in the experiment after they criticised her relationship with 35-year-old Arthur Poremba.
Last night's episode saw the MAFS men question Laura and Arthur's connection, with fellow groom Georges Berthonneau, 30, telling Arthur that Laura speaks to him like he is her "child or her pet", while Luke Worley, 31, suggested the Laura "belittles" her husband.
So far Laura and Arthur have been working on their relationship with the help of experts Paul Carrick Brunson, Charlene Douglas and Mel Schilling, however it seems that the rest of their cast members don't believe their partnership will work out.
The bride took to Instagram after the comments were made, fiercely defending herself and her marriage.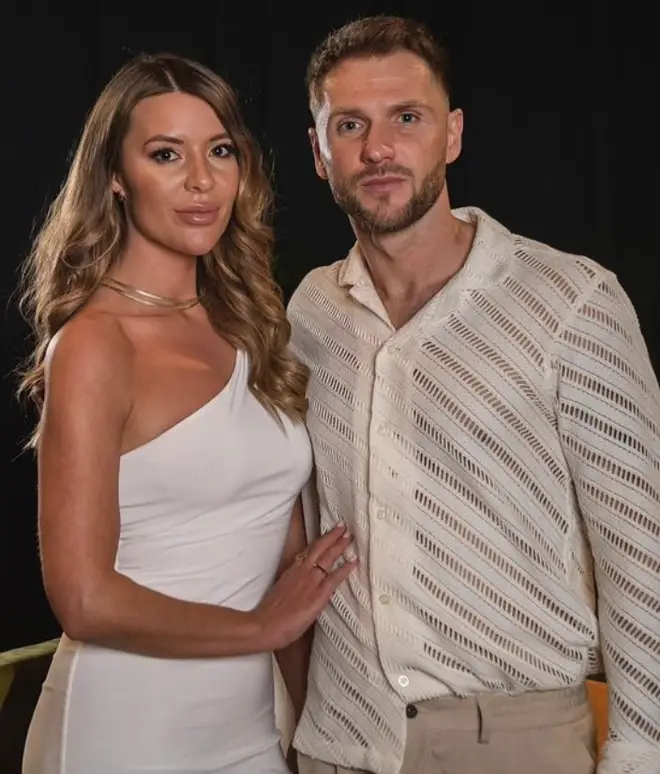 Laura wrote: "This is hard. I didn't watch last night, I came off my phone and literally laid in bed cuddling my dog DREADING what was being said about me on national TV that my friends and family will see. I felt sick. I cried a lot.
"Which is embarrassing to admit because I feel like I'm letting you guys down who are always in my dms praising how 'strong I am'.
"Well I didn't feel very strong last night. And what's worse if I absolutely felt the most intense amount of anxiety to look at any social media today as I was convinced I was going to get a wave of abuse because people may have believed what some of the guys said about me last night."
The bride added: "Well, can I just say there isn't a single negative direct message. There's only a huge outpouring of support on my page and for that, I can't even begin to say how grateful I am.
"It's easy to take things out of context and form a judgement, and it's even easier to create an opinion based around something you know very little about (that being mine and Arthur's relationship)."
Watch the grooms question Laura and Arthur's marriage here: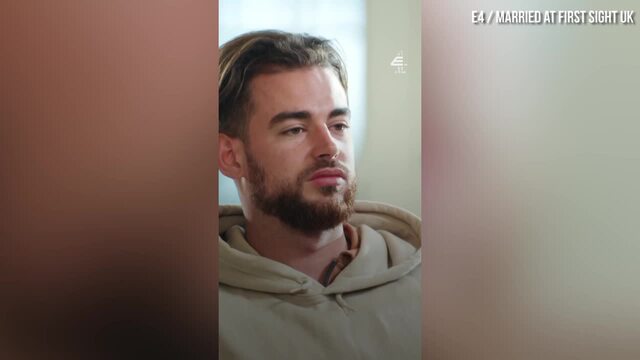 Married At First Sight Laura and Arthur's relationship is questioned
Laura then spoke about the groom's comments, saying: "The guys who went in on a girl's character when she wasn't there to defend herself could probably have spent more time focusing on their own marriages.
"Or maybe even better yet, actually taking time to get to know their friend's wife before going on the attack.
"The comments around me saying I wanted to make Arthur a better person were based around my wedding vows when I said 'I strive to always make you the very best version of yourself' because that's what I believe a healthy relationship is all about, bringing the best out in each other.
"That didn't mean I felt I was better than Arthur. Enough now, that number of guys going for one woman is uncomfortable and as you will have seen last night, my first concern was how it made Arthur feel."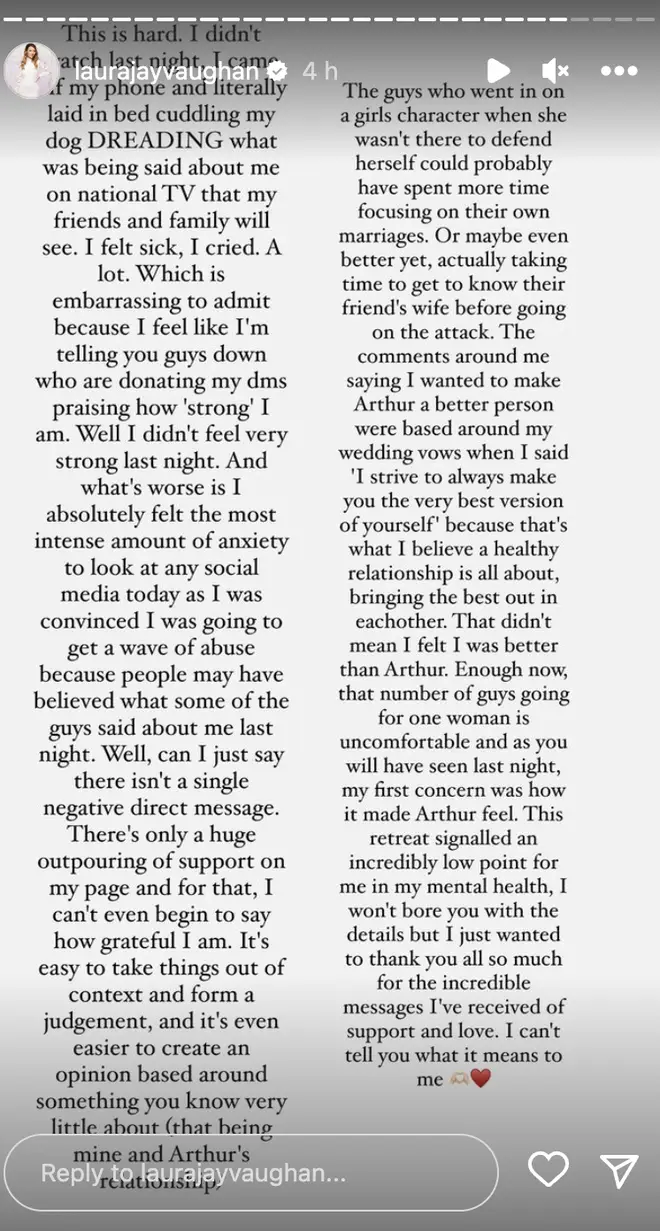 She continued: "This retreat signalled an incredibly low point for me in my mental health, I won't bore you with all the details but I just wanted to thank you all so much for the incredible messages I've received of support and love.I can't tell you what it means to me.
"And lastly, a huge thank you to Arthur for standing up for me and our relationship the way he did. It was incredible.
"You'll probably have seen me look very despondent and defeated at the end of the episode when I was chatting to him, honestly I just felt so bad he'd had to deal with it and if I'm completely honest; I remember feeling very numb."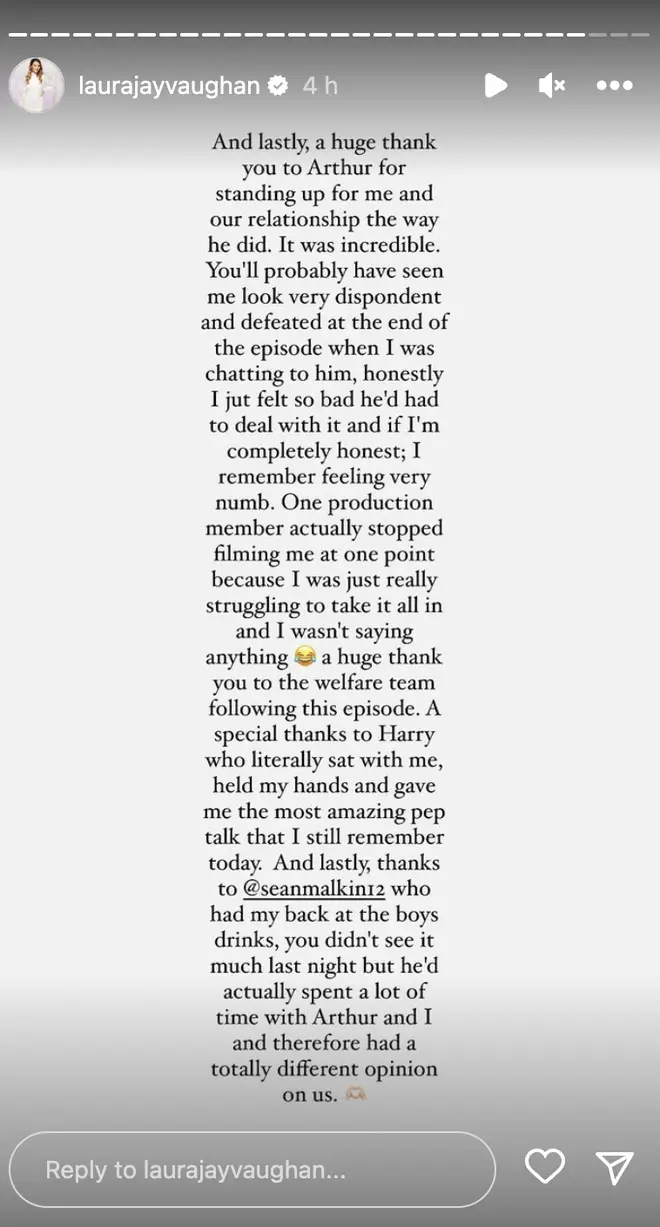 This latest episode comes after news broke that Arthur was seen kissing a woman on a night out last week. However it does appear that things seem to be better between the couple as this new Instagram Story.
Last night also saw JJ Slater, 30, and Ella Morgan, 29, return to the experiment after their affair was revealed, much to the shock of their fellow cast members and viewers.
Fans will have to continue watching to see how all the relationships develop.
Read more: