THESE Are The Royal Family's Christmas Traditions You Had No Idea Existed!
6 December 2017, 11:32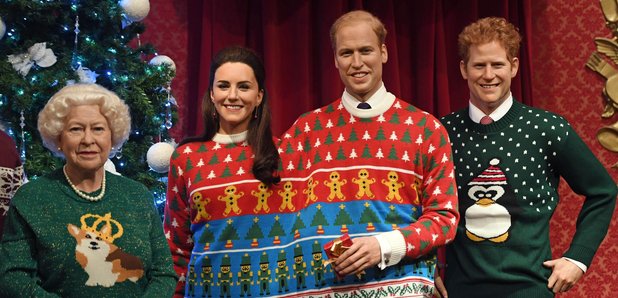 It's a busy time of year for the Royals.
Christmas Day. The one day of the year when families come together and celebrate in their own special way.
Some set the alarms super early and tear open the presents whilst still in pyjamas. Others choose to lay in, take their time getting ready and think about swapping gifts some time post Christmas dinner.
WATCH: Kate Middleton Waltzes With Paddington Bear

Every family has their Christmas traditions. And The Royal Family are no exception. Naturally, most of their traditions have been in the family many years, such as their annual church visits and, of course, Her Majesty's speech, but some are surprisingly new.
Here are the Royal's top 5 traditions that you probably didn't know about:
1. They play football
When we say 'they', we mean just Prince William and Prince Harry (sorry to disappoint if you were picturing the Queen in shin pads and studs). The two Princes have been enjoying a 'friendly' kick about on Christmas Eve for about 10 years, and invite their friends and any staff on the estate who are off shift. Generally, Wills and Harry are on opposing sides, and take it pretty seriously - William even sustained an ankle injury one year.
2. Present giving is on Christmas Eve
It seems that the Royals simply cannot WAIT to swap gifts! Post-football match, they reportedly sit down for afternoon tea, and at 6pm on the dot they do presents. The obvious question here is: What does one get one for Christmas when one is royal and wealthy? The answer, according to Former Royal Chef Darren McGrady, is that they all take pleasure in finding something odd for each other. He said: The crazier and the more quirky is what they love."
3. The Queen writes her Christmas Cards in summer
On her annual trip to Balmoral, the Queen will power on through over 800 Christmas cards - each one signed personally. Summer is probably a wise choice of season - she can choose to stretch her legs (or fingers) in the sunshine, rather than brave the cold.
4. The whole family watch a Christmas movie together
With Christmas Day itself taken up at Church services, speeches and sit-down meals, the Royal Family find time in the evening to watch a festive flick in The Ballroom at Sandringham. A giant screen and projector is installed to ensure that everyone gets a good view!
5. The celebrations continue until February
Generally, the Queen and Prince Philip stay at Sandringham until early February, in memory of Her Majesty's late dad George VI, who died at the estate on February 6, 1952. The decorations also remain in place until this time.