Watford: Tube Bosses Agree On Station Names
8 August 2013, 13:36 | Updated: 8 August 2013, 15:24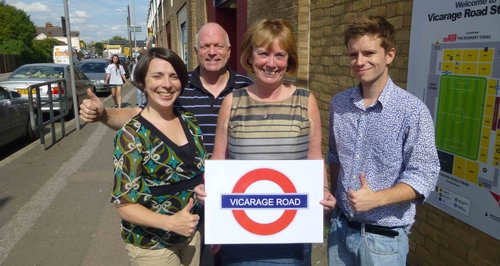 London Underground have today agreed to local demands to name the two new Watford stations on the Croxley Rail link as "Cassiobridge" and "Watford Vicarage Road".
(pictured: Mayor Dorothy Thornhill holding the sign with Cllr Stephen Giles-Medhurst behind and two local residents.)
Gareth Powell, LU's Director of Strategy and Service Development told Heart: "We have been reviewing the proposed names for the two new stations that will be provided as part of the Croxley Rail Link.
There are many factors we take into consideration when naming stations including ensuring that stations cannot be confused with other locations and geographically reflect the area served. After much discussion and taking into account the preferences of the local community, we have proposed that the two new stations should be called 'Cassiobridge' and 'Watford Vicarage Road'."
For the Vicarage Road station, LU had initially favoured the name "West Watford", but following a campaign launched by Mayor Dorothy Thornhill, who submitted a petition signed by more than 2000 people, they agreed to the locals' preferred choice.
Dorothy told Heart: "This is really excellent news and I thank London Underground and TFL sincerely for listening to us. We've all been so passionate about getting the name Vicarage Road because to call it anything else would just be bonkers. This is the right name for a station in this part of town, and I for one will be so proud to see the name Vicarage Road on the tube map, as will many many others."
Watford MP Richard Harrington added: "This is great news for Watford and I am delighted that London Underground have listened to the representations I made on behalf of people in Watford.
As the letter says the names should reflect the preferences of the local community, and I personally cant think of a name better suited than Vicarage Road.
I will be formally responding to this proposal and I am looking forward to seeing the station in action in 2016. Thank you to all those who got in touch with me and signed my petition, and to London Underground for taking these arguments on board."