Magna Carta In St Albans
1 August 2013, 06:00 | Updated: 2 August 2013, 06:06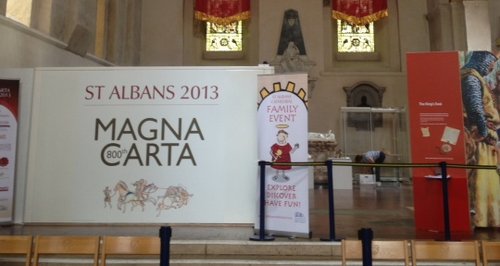 One of the four remaining original Magna Carta documents has gone on display at St Albans Cathedral.
It arrived on Thursday 1 August 2013 and is due to stay on display until the end of the month.
Due to the sensitivity of the 798 year old paperwork, St Albans District Council and the Cathedral have had to arrange for a specialist pod to be build to put it in. It has to be kept under a controlled temperature and lighting.
Canon Kevin Walton from St Albans Cathedral told Heart the Magna Carter has a historic connection to the city.
He says that 800 years ago the Cathedral hosted the first meeting that led to the writing of the Magna Carta. It was between the King's representatives and the Barons that had grievances with him.
Lesli Good St Albans & District Council says this displaying of the Magna Carter is one of just a few things they have on to celebrate the anniversary. Other activities include a Magna Carta Concert, a children's summer workshop and a medieval festival.
Visitors can see the Magna Carta on display from Saturday 3 August 2013.
Tickets can be brought from the Cathedral or online here.